WordPress themes allow you to control the layout and extend the functionality of your WordPress websites. The core functionality and looks of your website is often controlled from your theme. A WordPress theme will typically be a set of HTML, CSS, JavaScript and PHP files, that sit on top of the core WordPress application.
There are over 8500 WordPress themes available in the WordPress theme directory, and installing them only takes a few clicks. However, there are some caveats. Many WordPress themes are not actively maintained, and can have a range of other performance or SEO issues. We always recommend choosing the more popular themes, and customizing them as per your need.
So are you ready to install your first WordPress theme? Here's our step-by-step guide for installing WordPress themes:
Step 1:  Login to your WordPress dashboard.
You must be logged into your WordPress dashboard as an admin, to install, update or change your theme.
Once logged in, you will need to navigate to the themes section of your dashboard.
Step 2:  Navigate to the Theme directory view.
Find the "Appearance" item on your main WordPress navigation menu. Once you hover on "Appearance", you will see another menu appear. Select the "Themes" item in the menu. This will take you to the Themes section of your dashboard.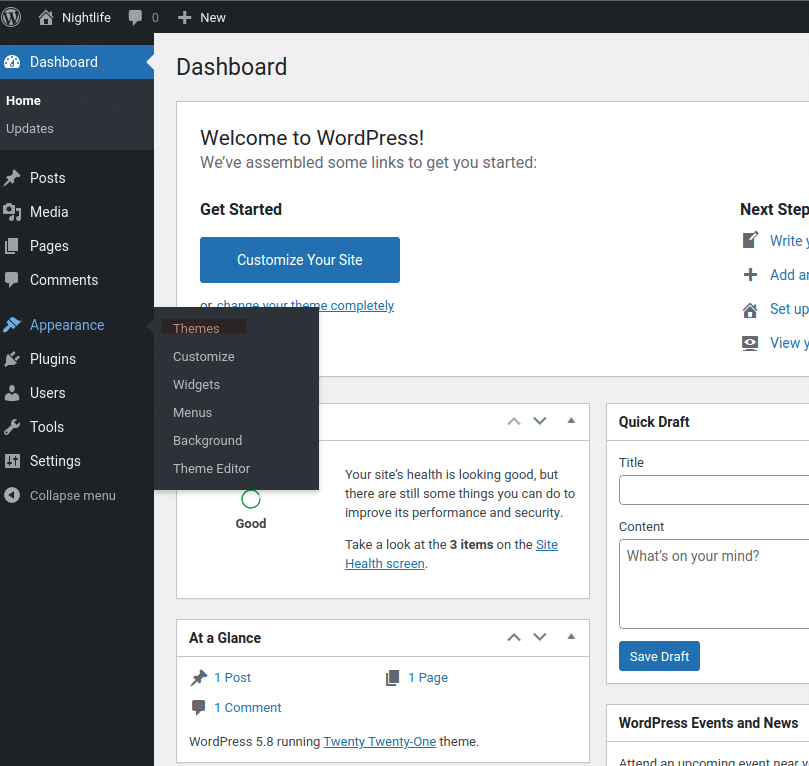 Click on "Add New" on the top right, to navigate to the theme installer.
You will now be taken to the theme install view, and be able to see a directory of available WordPress themes.
Step 3:  Select & Install the Theme you want to install.
You can search the WordPress theme directory for the theme you would like to install. Install the theme by clicking "Install Now". For this guide, we will navigate to the "Kadence" theme, and install it. Kadence is a great theme, with many starter-templates to get you started.

Installing the theme copies the files of the theme to your website. You will need to activate the theme, to make it work with your website.
Step 4:  Activate the newly installed theme.
Activate the theme by clicking on the activate button.
Congratulations! You have now activated a new theme on your WordPress website.
To customize your theme, find and click on the "Customize" button either in the main navigation menu, under the "Appearance" header, or from your installed theme.
If you are a Hustly customer, and want a specific theme installed, please feel free to reach out to us.