This article is a guide for customers on Hustly WordPress hosting plans.
Being able to access your hosted files via FTP or a file manager, is critical for managing your websites. Thankfully, this is easily achieved with Hustly.
Before you start this tutorial, there are a few prerequisites:
So here is a quick guide that will help you access your hosted files via FTP or File manager
Login to your hosting admin panel

Login to your hosting admin panel, and navigate to your desired domain. Please note the options read "File Manager" and "FTP Access". From these sections, you would be able to access files on your hosting servers.
Accessing your files via the file manager

Clicking on "File Manager" will launch the in-built file manager, that you can access via any web browser (ideally on a desktop or laptop sized device such as a PC or Mac). The file manager will show all the files in your hosting environment. The files for your first domain that you had added to this server, would typically be in the httpdocs directory/folder. Additional domains would typically have their own folder, or be part of a sub-folder. The directory structure would vary depending on how you setup your domains.
You can open each directory and browse through these files to view your files and how they are structured. The interface will also display the permissions for each file, and other parameters such data modified and size.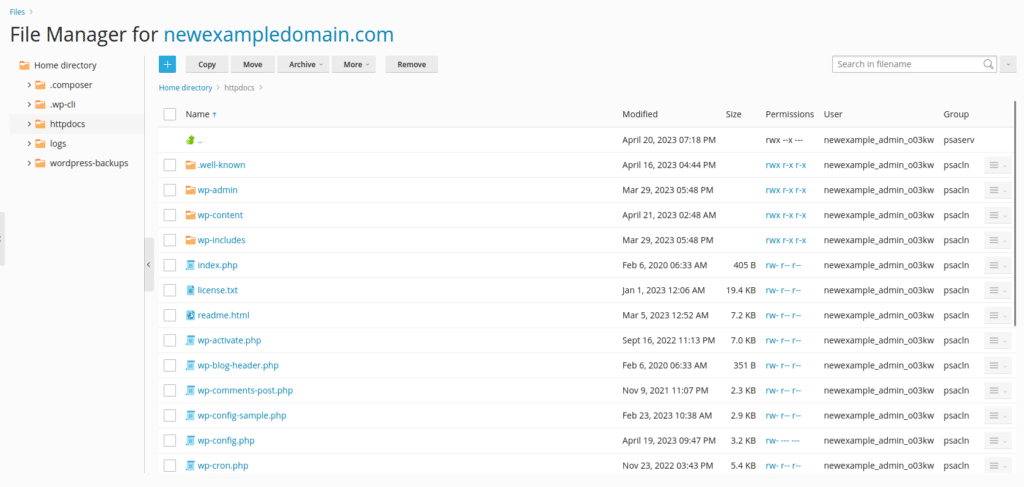 The file manager lets you perform common file operations such as copying, moving, or uploading files. There is also an in-built file editor that lets you edit the files directly, but please be aware of issues that might arise out of different character encoding formats.
The file manager is typically faster than using FTP since it uses a faster HTTPS connection. For most common operations, the file manager offers a great way to manage your files in your hosting environment.
Accessing your files via FTP

Sometimes, you might want to access your files via FTP. This could be because other applications might want to interact via FTP, or you could just be manually managing your files via FTP. Please note the FTP connection will feel much slower than an HTTP connection.
To access your files via FTP, you will need your FTP credentials. To access your FTP credentials, navigate back to the top level for your domain, and select "FTP Access" from the dialog, as shown in the first image in this article. This section will show your FTP accounts – and your username would typically be the username you used to create your hosting panel account while completing your Hustly account setup.
You can either use the default account, or add an additional account.
Either use your existing user password for your hosting server, or setup a new password for the FTP user. If you are going to be sharing this access with your team, we recommend creating a brand new account for your team rather than using the default master account.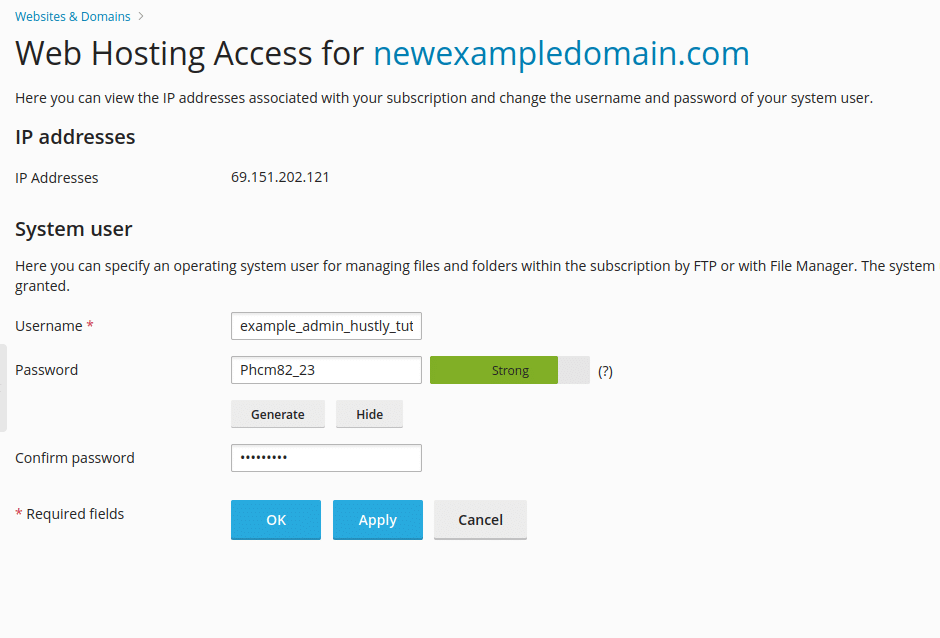 Once you have setup your password, you will be able to access your folder via common FTP clients such as Filezilla.
To connect via FTP, put the following address in your FTP client: username@ip-address
Most clients will prompt you for a password. Alternatively, you can provide the password while connecting by using the format  username:password@ip-address
Congratulations! You should now be able to access your files via File Manager & FTP

Being able to manage your files is essential for managing websites, and we hope we have made the process easy. Please let us know if you have any questions or comments in the comments section.