At Hustly one of our goals is to make it easy for self starters and solo entrepreneurs to easily launch and manage their WordPress websites.
This guide will help you launch your WordPress website in minutes. If you are a complete beginner and have limited experience with websites and domain names, this guide is perfect for you.
In 2021, we believe this is the easiest and simplest way to launch a fully functional WordPress website that is ready for online business. At the end of this tutorial, you will have:
a fully functional WordPress website.
configured your domain name.
administrator access.
So without wasting any more of your time, here is a simple step by step guide to launching your WordPress website.
Step 1: Sign up for Hustly WordPress hosting plan.
Create an account by signing up on our website https://hustly.website, or directly from our Sign Up page. A valid email address and a secure password will be needed to create your account. Please save this password securely in a password manager.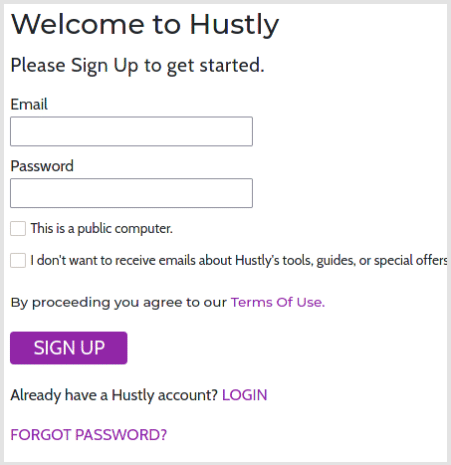 Once you are signed up, you will be asked to select a plan and start your free trial. You will be required to connect a valid payment method. All our plans start with a 30 day free trial. This means that you can cancel anytime in the 30 day free trial period, and you will not be charged.
The Professional plan is great to get started. It gets you one WordPress installation and up to ten websites. If you need multiple WordPress websites, check our Expert and Agency plans for a bulk discount. If you are new to Hustly plans, please feel free to read why our WordPress hosting plans are the best.
Once you have signed up for a plan, you will be asked to enter some additional account details. Fill up and submit the form. These details are needed to manage your hosting account.
You will need to enter the following details :
Your Full Name

: Enter your full name

Server Login Username

: Enter a server login username. You will need this username to login to your hosting admin panel later, so make sure it is something you can easily remember.
Please note that the username can only include letters, numbers and the _ character. So if your name  is "Jane Doe", you can choose a username like "jane_doe_admin".

Audience Location

: Please select the geographic location where most of your users will be located. This will be your primary server location.

Company

: Please enter a business name. If this website is for personal use, simply enter "Self"
Once you submit this form, your account will be created, and you will be asked to enter a domain name.
Step 2: Connect your domain.
Once you have updated your account details, you will be prompted to connect a domain name. You will need a domain name to continue this tutorial. To add your domain, enter your domain without the http or the www part. Check the confirmation box, and click "Connect Domain".
Configuring your domain name
You need to configure your domain name name servers to point to your Hustly hosting server. You can carry out the configuration step now, or at the end of the tutorial. Please refer to our detailed guide here : How to configure your domain names and SSL with Hustly.
Don't have a domain name?
Use our domain name generator to find and register creative and unique domain names.
Wait for the dashboard to connect the domain and reload. Once the dashboard reloads, you will see an option to install WordPress in the "Website Applications" section.
WordPress is now ready to install on this domain. From here, your website will be ready in just a few clicks.
Step 3: Install WordPress.

Go to the "Website Applications" section in your Hustly dashboard, and make sure you see the "WordPress is installable on this domain" message.
Simply click on the "Install WordPress" button, check the confirmation box and start the installation by clicking on "Install WordPress" again.
Wait for the installation process to finish. Please don't close this window. The installation process takes about a minute, and your dashboard will update the status of the installation process in real time.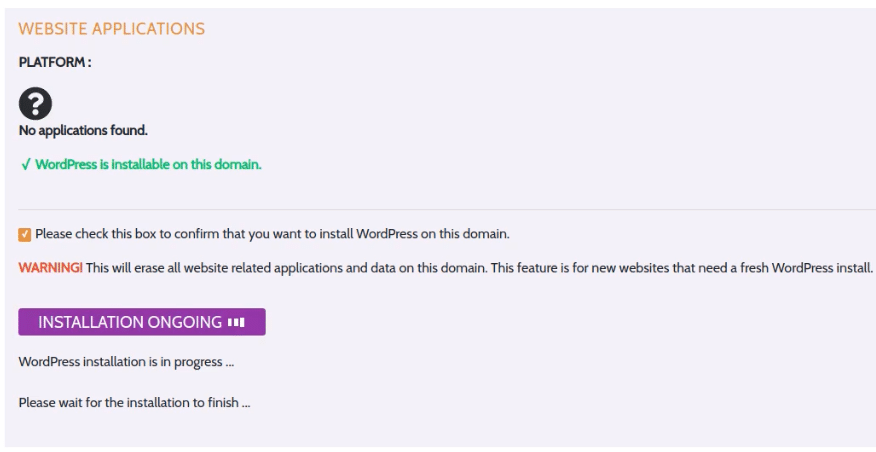 Once installation is complete, the dashboard will reload automatically.
The "Website Applications" section in your dashboard will indicate that WordPress has been successfully installed, along with your login details.
At this stage, WordPress is installed on your domain. However, we might still have to wait for your domain name records to propagate across the internet. 

Step 4: Verify that your domain has been configured.
Visit your website, by visiting your domain name in a new browser window or tab. Check if the default WordPress website is loading.
It is normal for new domains to take some time to propagate. If you see an error – please wait for 10-15 minutes and try again. Repeat the process if you keep seeing the error. It is completely normal to have to wait for a few hours.
Once your domain name has propagated and you see the default WordPress home page, your site is ready to be used.
Step 5: Login as Admin into your new WordPress website.
Find your WordPress login details in the "Website Applications" section in your Hustly dashboard. This section will include :
URL of your WordPress admin portal, ending in "/wp-admin".
Your default WordPress admin user's login username.
Option to generate a new password for this user.
You will need to generate a new password, since this is your first time. Scroll down to the "Website Applications" section, and click on the "Generate New Secure Password" link.
Follow the instructions, to generate your WordPress admin password. Please save this password securely in a modern password manager. You can also use this tool to reset your password anytime, in case your forget your password.
Now visit your WordPress admin url. You may have already guessed that your wordpress admin url is your domain followed by the "/wp-admin" path. Use your login and recently generated password to login to your WordPress website as administrator.
Congratulations! You are now the owner of a WordPress website.
Congratulations! WordPress is now fully installed on your hosting server, and ready to be used, updated, and administered by you. You should now be logged into your WordPress dashboard. The powerful WordPress dashboard lets you build and manage your WordPress website.
Some of the common tasks you can carry out from your dashboard are:
Publishing blog posts and moderating comments.
Creating new web pages.
Updating the appearance of your website.
Installing themes and plugins to extend the functionality of your website.
Adding and managing users, managing e-commerce, miscellaneous website settings and a lot more.
The capabilities of the WordPress dashboard go far beyond what's mentioned above. It is the main place from where you will manage and build your website. You can configure all aspects of your website from within this powerful WordPress dashboard. Even the appearance and functionality of the dashboard itself can be configured and extended to suit your needs. All without ever leaving the WordPress dashboard.
If this is your first time installing WordPress, please check out our other useful WordPress guides below:
We hope you found this guide useful. We wish you the best of luck with your new website. Please leave your comments below and let us know about your installation experience.